French-Press Coffee Makers
posted Apr 13 2021 | All posts
French-Press Coffee Makers 
If you want to make a flavorful, full-bodied cup of coffee at home, french press coffee has earned a reputation for being one of the most complete coffee brewing methods. French presses utilize a technique known as immersion brewing, in which coffee grounds are steeped in hot water for several minutes (about 4 minutes after pouring hot water and coffee). This coffee maker tastes better than many others because it provides an intense flavor with a heavy body (Medium to dark roast coffees work well). This kind of coffee maker model is one of the less expensive on the market. There are a wide variety of models and different materials on the market. It is a good investment for those who like to enjoy unique flavors, aromas, and  textures. In addition, they are very easy to use without losing the natural oils of the coffee beans. 
List of Best French-Press Coffee Makers
French presses come in different materials which is an important thing to consider before purchasing one. The french presses on this list have good reviews, prices, baristas recommended them, or have high sales volume. Personally, i like french ceramic or steel presses because they retain heat better so I do not need to make coffee often. Le Creuset Petite Press Coffee Maker in Marseille is my favorite for the design (the brand makes original designs), material and it is easy to use. I am not an expert at making coffee. 
Glass French Press Coffee Makers 
BonJour Monet 3-Cups French Press
It is ideal for people who mainly make coffee for one. It comes in three sizes (3 cup, 8 cup, and 12 cup). Striking design features a clear borosilicate glass carafe with stainless steel accents and cool-touch handle. It lets you to manually brew flavorful, aromatic coffee using your favorite coffee grounds. It retains oils from coffee grounds to ensure a rich tasting cup every time. It is easy to use, sleek, eye-catching and timeless design, sturdy, cool-touch handle for safe use and confident handling, and durable borosilicate glass container with striking stainless steel accents. It is ideal for people who make coffee for one, enjoy simple designs and like a quick cleaning. 
Bodum Eileen 8-Cup French Press, Gold 
It transforms coarsely ground beans and hot water into that most reinvigorating of drinks within minutes. It is very easy to make coffee with this model. Add desired amount of ground coffee, pour in the water (92 - 96 °C), place the plunger on top to retain the heat, let it brew for 4 minutes and lift the plunger. Now, enjoy your coffee.  It has a modern design. Stylish french press coffee maker that brings out the full flavor and aroma of your brew. Carafe is protected by a stainless steel frame with a bold, geometric design, ergonomic handle for a safe and comfortable grip.
Easy to use and clean (all parts are dishwasher safe). Stainless steel plunger prevents ground beans escaping when the coffee is poured. It is ideal for people who love design and products which care for the environment to make coffee. 
Plastic French Press Coffee Makers
BonJour Ami-Matin 8-Cup Unbreakable French Press 
Features an unbreakable, BPA free tritan plastic carafe for lasting use.It lets you make fresh, great tasting cups of your favorite coffee the traditional way in eye-catching style. Patented filtering lid reduces sediments in your cup, easy-pour spot, easy grip-handle and includes measuring scoop. Do not worry about accidents. 
Ceramic French Press Coffee Makers 
Le Creuset 12oz Petite French Press Coffee Maker in Marseille 
This model is perfect to someone who takes time to make coffee. Excellent heat retention because its material (gres) is thicker and durable. If you do not want to make coffee every time, you prefer an option that keeps the heat for a long time, this is ideal for you. It is designed for everyday use, resistant to chip, scratch and stains. Superior heat retention keeps food warm or cold for serving. This kind of ceramic (gres) is easy to clean, it does not absorb coffee flavors. It is not recommended to wash in the dishwasher but you can. 
Yield Design Ceramic French Press 
The ceramic body maintains  a consistent temperature throughout the brewing process. Made of thick ceramic. It has a large trapezoidal handle. The french press is certified SGS Food Safe. It is useful for brewing iced or hot tea. It is ideal for those who like coffee for a long time, and enjoy iced coffee too. 
Metal French Press Coffee Makers 
Frieling 23 oz Insulated Stainless Steel French Press in Brushed Finish 
It allows you to traditionally brew flavorful coffee in a striking style. Double-wall insulation ensured superior temperature retention to keep hot drinks and cold ones longer. Easy to use, uses ground coffee, no need to disassemble the plunger when cleaning. French press can also be used for brewing loose tea or elegantly serving cold beverages. 
La Cafetiere Thermique 8-cups French Press
Easy way to enjoy rich, flavorful coffee any time. Classic styling and ease of use. The thermal carafe keeps your brewed coffee hot for over an hour because it has a double walled stainless steel body and lid. You can make up to 8 cups of coffee, it is resistant to oxidation and it is dishwasher safe. This model is ideal for those who usually make coffee for several people or a family home.   
KitchenAid Precision Press Coffee Maker 
The gadget features a built-in scale to precisely measure both coffee grounds and hot water. It also features a timer to track brew time and a stainless-steel carafe to retain heat longer than glass container. You have to supply it with properly ground coffee beans and fill it yourself with hot water. The kettle's stainless-steel walls are double-lined for improved heat retention. It is designed to preserve coffee heat longer than basic glass-walled French press coffee makers. 
Travel French Coffee Makers 
Planetary Design Desk Press 20oz. French Press Travel Mug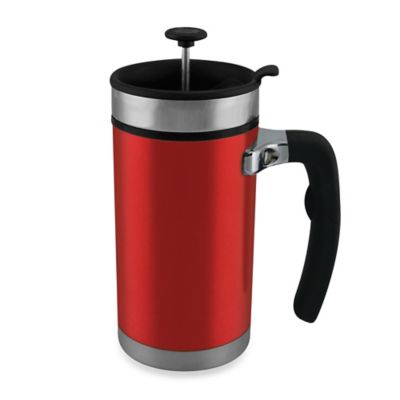 It is perfect for pre-measured servings of coffee. It is also ideal for preserving herbs, spices or any other goods that are oxygen, humidity and light sensitive. Stainless steel body, plastic screen frame, rubber padded base, double wall, vacuum insulated body, spill proof locking lid for heat retention and compatible with the CarGo Can, micro-Airscape storage container. 
Cafflano Kompact Portable Coffee Press
Portable-press style coffee maker. It has a reusable stainless steel filter. Easy to use and clean. It is ultra-smooth brew extraction, and spill proof. It has a silicon bellows chamber with a foldable press guide, ultra-fine etched stainless micro filter, and airlock to keep it. Zero-friction of bellows, easy and light press, cold brew on the go with airlock cap and perfect cleaning of micro-holes with bellows' pumping action. 
How to find the best french press 
Material: French presses come in a variety of materials, including glass, stainless steels, ceramic and stoneware. Each one has its pros and cons. For example, glass and plastic presses tend to be more affordable, but glass press is easiest to break and leads to poor heat retention. Ceramic and stainless steel presses retain heat, keep your coffee warmer for longer and these are more expensive. The flavor is not affected by the material that you choose. The coffee will be delicious.

Heat Retention: This is directly tied to a French Press's coffee maker material. All non-electric coffee makers naturally struggle to keep coffee hot for as long as electric brewing devices can. If you make a cup of coffee to drink quickly it is not a problem. If you want to keep coffee hot for a long time, consider buying a thermal or insulated French press coffee maker. 

Capacity: French presses have a capacity ranging anywhere from 12-15 ounces. Size and price are linked together. The larger french presses are more expensive, and smaller french presses are less expensive. Regarding the measure, people usually think a cup of coffee is 8 ounces when coffee brands consider a cup to be 4-6 ounces. 

Easy cleaning: Making coffee is not the only step to have a good cup of coffee. You need to dispose of used coffee grounds and clean the carafe. Clean the coffee maker, but some people need an easy cleaning option because it is not something they like to do. There are materials that do not require much care for cleaning. 

Warranty: Take a look at an item's warranty beforehand to see what damages may or may not be covered. Some French Press are fragile and the coffee brands describe this and advise to choose a metal option if you want something durable. 

Size: There are many standard sizes, but 12oz and 34 oz are the most popular. If you make coffee for one or maximum for two a coffee press of 12 oz is ideal for you. Also, these kinds of coffee presses are perfect to travel. If you usually brew coffee for your family or friends, opt for the 34 oz version. 

Design and Comfort: It may seem superficial, and it often is but think it can be practical and give comfort. It is nice to be able to show off our french coffee but it is not everything. When you are looking for a French Press Coffee Maker the design is an important point because you need to feel good with the model you choose. You choose the size, material, shape and handle appropriate to your needs. Design is not only colors or something stetic is comfort. 
For lovers of robust, full-bodied coffee, French Coffee Presses are a great option. In fact, for everyone they are. We have looked at some options in different materials and coffee brands that may work for you if you want to change your coffee press coffee maker or try for the first time. As always, tell us about your experience with coffee presses.