Best Coffee Grinders
posted Mar 29 2021 | All posts
Best Coffee Grinders
Coffee grinder is an important and great tool that we should have in our kitchens especially if we enjoy drinking a delicious cup of coffee everyday. We always want to have the best for our house and in this case we want to find the best coffee grinder which provides us all with the best coffee. The vast majority of coffee experts agree that the most important tool for making delicious coffee is a good burr grinder. 
A quality coffee grinder can be an investment. There is a great long list of options from compact tools for different kitchens to high-end coffee grinders suitable for professional coffees, coffee grinders were found for all prices and levels of experience. 
List of best 10 Coffee Grinders 
Best overall coffee grinder -  Baratza Encore Conical Burr: 
A top-notch coffee grinder, grinds coffee more evenly, on a wide range of settings. His grinder is also super-easy to clean and maintain. Controlled by an on/off dial and manual pulse bottom. It holds a size-able 8 ounces of whole beans of whole beans, which its 40 millimetre commercial-grade conical burrs effortlessly (The encore, in fact, has 40 grind settings, so you can easily adjust to whatever coarseness or fineness you're looking for) Although the Encore will not produce a fine enough grind to satisfy espresso enthusiasts, its output is consistent enough to create a useful shot. 
This grinder is easy to use, its size is ideal for any kitchen, it is a great gift (according to some experts), it has a good rating in Amazon and it is recommended by baristas . This grinder should be great for anyone who makes drip coffee or uses a French press
Best (less expensive), best budget friendly - KRUPS Precision Grinder: 
When you are looking for economy in the grinder, coffee experts recommend this option as "more affordable alternative" to must burr grinder. It has the essentials 12 settings for selecting your preferred grind size and the grinder also includes a cup selector dial to grind the exact amount of coffee you need. It has an excellent rating on Amazon. 
Best professional Level/large capacity - Breville Smart Grinder Pro:
For a high-end machine that even professional baristas swear by, this one came recommended to us for a very specific technique: pour-over. The device has 60 different settings from coarse grind to fine grind, it has LCD screen, a timer, and the number of shots or cups you have selected. Also, the timer is adjustable to have a better control and it is very powerful. It is easy to use, easy to clean, and it is a good investment for your house because you can improve the quality of coffee. It has excellent ratings and the customers are happy with this grinder. 
Best quiet and design grinder - Fellow Ode Electric Brew Grinder: 
It combines fast, consistent, and typically commercial- grade flat-burr grinding technology with a small footprint, a quiet mechanism, and thoughtful design details. Every grind it makes is fresh because it has a single-dose loading chamber. It has more details like a canister that magnetically aligns to the machine's opening and an ingenious built-in spring to knock grinds back into the holder. It is quieter and automatically shuts off when finished.
Best programmable - Baratza Virtuoso + Conical Burr Coffee Grinder With Digital Timer Display: 
It has a slightly broader grind range, for both fine and coarse. This grinder has a precise digital timer so you can set  for a specific time, turn it on, walk away, and return to beans that are never overground. It is fast and relatively quiet, with a timer and digital display. Also, it has a light for the bin, so you can see easily how much ground you have. 
Best coffee grinder for espresso - De'longi Dedica Digital Coffee Grinder:
This coffee grinder does everything,  but it excels at espresso, something most other coffee grinders do not do well. This makes it a versatile machine for any hose. This coffee has some good details like a digital LCD display (makes it easy to read) and reduces waste. 
Quietest coffee grinder - Baratza Forte BG Commercial Coffee Grinder: 
It is a commercial level coffee grinder intended for extensive daily use in restaurants and cafes. This is one of the most expensive, but it being a commercial level machine tends to be quieter because its design is thought so as not to disturb consumers. It has great capabilities across the board, you can use it both for espresso and pour-over.
Most Stylish - Smeg Coffee Grinder: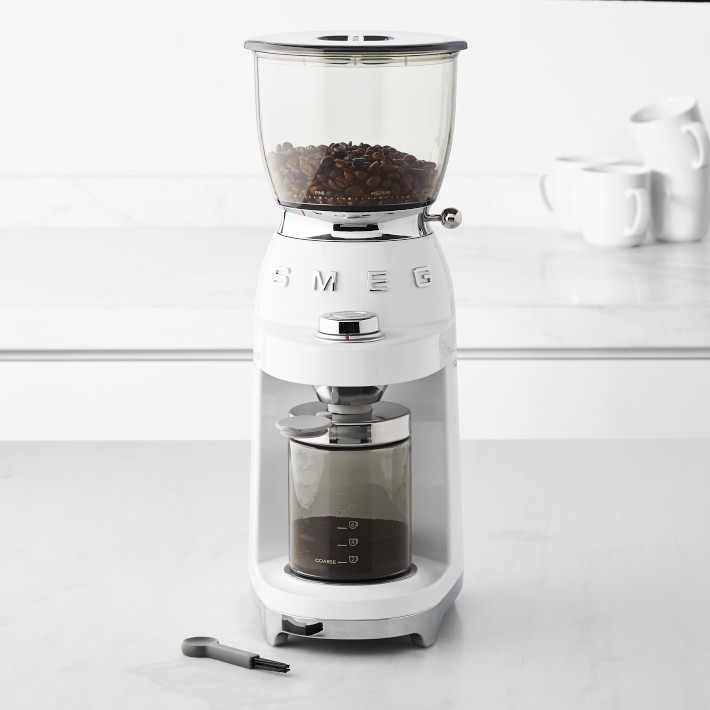 Smeg has elegant machines. This Italian brand is distinguished by rounded silhouettes, chrome detailing, and bright color, as well as remarkable engineering. It has a 120 watt motor and made with stainless steel conical burrs that grind up to 12 cups of drip coffee. It guarantees freshness before and after grinding. Users love its design and its operation. 
Best overall hand grinder - Porlex Mini Stainless- Steel Coffee Grinder:
On the other end of the spectrum are the manual grinders. These have the same burr grinding method as an electric model, the only difference is you do the work. These kinds of grinder have plenty of fans, they are especially great for travel.  This design is different and it gives you more control, not everyone chooses it, but they do their job well like other grinders. 
Best small capacity - Hario Ceramic Coffee Mill Mini-Slim Plus:
It is a reliable way to get incredible-tasting coffee. The Japanese-designed tool features ceramic burrs, which produce less heat and stay sharper longer than steel. These kinds of grinders have an advantage because they do not make noise like electric ones. It has a scratch-resistant casing and the 2-cup grinder is compact and it is ideal to travel. 
What to look for when buying a coffee grinder
When you choose a coffee grinder you need to see if you want a blade, burr or manual grinder. 
Blade grinders: It cuts beans into teeny-tiny bits. The longer you keep your grinder running, the finer your grounds. Blade grinder will not achieve as consistent texture as burr blade but it is smaller and less expensive. 

Burr grinders offer greater consistency and control. They do not slice, but rather crush coffee beans into grounds. This process gives more complete and balanced flavors when you brew and depending on the number of settings it can make different grinds. These kinds of grinders are more expensive and experts agree they are the best choice. 

Manual (or hand) grinders are the smallest option and much more affordable than the rest. It takes more time because if you want to grind the beans you need to crack a handle. They are much quieter than others, they are ideal for traveling and carrying anywhere. 
Cost: A good coffee grinder is not cheap. There are different options if the cost is important to you but if you spend money on coffee an expensive coffee grinder is not a problem. As an additional consideration, coffee grinders that cost more will often be made from better materials but durable materials.  This will save your money in the long run for durability, technology and good care you give it. 
Capacity: Grinders are made to hold a certain amount of coffee. The idea is to find out the capacity that suits you or who lives with. 
Speed: For many people the speed in a coffee grinder is an indicator to quality but it is not true. Coffee grinders with high-speed motors produce more heat, which risks burning the coffee. If the coffee grinder gets the beans hot while it is grinding them, it will burn them and change the taste. One of the big differentiations of expensive coffee grinder is the ability to control the high-speed motor and the heat that it produces. So when you want to buy a coffee grinder, high-speed motors are a signal that it will not have as long of a life.  
Grind Settings: 
When you have made coffee in different ways, you would like to have a great coffee grinder that provides you with enough settings to get it. Currently, there are a wide variety of high tech coffee grinders that offer different ways of grinding. 
You will commonly see grinders described by Stepped or Stepless.
Stepped grinders provide a set number of settings that you can select before grinding your coffee beans. 

Stepless grinders provide more options because they do not provide set configurations. Stepless grinders generally cost more. 
Dosing: Models coffee grinder with doser drop the ground coffee into chambers which are then released by the filter when it is ready to brew. It helps to have a better coffee but it also can be a problem because it leaves a lot of mess.  
Noise: This point depends on your needs because many people do not like the noise which coffee grinder makes so they will look for a quiet option. Conical burr grinders are generally quieter than flat burr grinders. Burr grinders tend to be better than blade grinders in this regard. If you want to buy a coffee grinder try to search some details including if these are noisy or not. 
There are more options of coffee grinders that they can be adapted to our needs and give us the best experience with our coffee. Our idea is to provide you with a base of some coffee grinders and certain details to consider what grinder suits you, when you want to buy it. If you have had some experience with any coffee grinder above or you think we forgot one, please share your story with us.