Best Pour-Over Coffee Setup
posted Apr 13 2021 | All posts
Best Pour-Over Coffee Setup 
Pouring over coffee  is one of the best and easiest ways to make coffee at home. Suppose you have never made pour-over coffee and with so many different coffee makers, kettles, scales, etc… in the market, you do not know which pour over setup makes the best coffee. You can not just go for the most popular options out there. Giving you a chance to try with new options, you do not know what surprises you can have. You can search in a guide or follow recommendations  to make a successful purchase. Therefore, we have tried to find the best options to help you in pour-over coffee. 
           - You need to know: 
The pour-over coffee method is similar to the drip method. Pour overs give you full control over your pouring style, it allows you to control the temperature of the water, the speed at which it goes into the grounds, the amount of time it brews  and how much it makes. However, one of the main problems with the drip method is you cannot have control over the machine brewed coffee. Also, you cannot control the taste, texture, etc… as when you work with pour-over coffee method. 
List Best Pour-Over Coffee Setup For Home
You only need a little skill and know-how, you can to achieve a cup of coffee that tastes beyond amazing. There are a lot of ways to make coffee that everyone loves because each one adapts to your needs. You need to have some Setups depending on what kind of details you want to have in your coffee. Brewing method is a simple way to make coffee with intricate flavors you might not get from a machine.  If you want to brew and enjoy a great cup, it is recommended a grinder, kettle, and scale. We have some options that can help you. 
Best Water Filtration for Pour-over Coffee
Brita Soho 5-Cup Water Filtration Pitcher 
Water is one of the most important factors. When water is clean and has the right combination of minerals, you will get a delicious result. A water filter is necessary when you want to have a quality coffee at home. Brita does a good job, it cuts the taste and odor of chlorine to deliver great tasting water. It is ergonomically designed with a flip top lid that makes refilling a brezee and an electronic filter indicator that lets you know when it is time to change it. It is long-lasting, compatible with standard filters and competitive prices in the market. It is one of the best rated for sale.
Best Pour-over kit for Pour-over Coffee
There are two big factors: shape and material. This is really important when it comes to the device in which your coffee is actually brewed. The extraction it delivers is even and consistent when used with skill. The V60 has an open bottom, the filter drips directly into the vessel below it without coming into contact with a flat surface. The cone's material, which determines its heat retention. It makes for better-tasting coffee. 
Best Dripper for Pour-over Coffee 
Hario Filter Paper for 02 V60 Dripper
Coffee filters keep your coffee from becoming sludge. Hario Filters V60 size 02, which are not bleached and can be composted when you are finished. Hario's make for convenient brewing and cleanup. There are other reusable options (cloth and metal coffee filters) but if you want the best pour over possible, paper coffee filters are the best option. This cone pour-over filter is designed to produce a superior cup of coffee. 
Abid Clever Coffee Dripper
It is considered like the best manual coffee maker for home use.it is an easy to learn, single cup manual coffee brewer that simplifies the brewing process.  It is a mix between a full-immersion brewer like a French press and a traditional pour-over cone. The clever has a release mechanism on the bottom that allows the dripper to drain when placed on top of the mug. It is easy to clean and use. 
Manual brew method requiere manual involvement from a person. In this process you need to heat your water separately, grind your coffee, and pour the water. Some people consider this process "artisan". This means that the quality of coffee produced will be of higher quality than you would typically get from an automatic method. You can see what is happening in real time and correct mistakes. 
Best Kettles for Pour-over Coffee 
Bonavita 1.7 Liter Variable Temperature Gooseneck Kettle 
It is a variable-control temperature kettle. It lets adjust the temperature for your beverage. The digital display lest you monitor temperature in real time. This kettle has a gooseneck spout for superior pouring control. It reaches your desired temperature quickly so you can more quickly make and enjoy your drink. It keeps the right temperature. You can keep water in the kettle at your desired temperature for up to an hour at time. 
Hario Electric Buono Kettle 
It has a slim gooseneck spout for consistent pour control. It also has quick boil times, auto-off functionality, and boil dry protection. It is cheaper than other options and pours perfectly consistently. It is more convenient for all of your pour over needs.
Best Digital Scales for Pour-over Coffee
Escali Primo Digital Scale
It is good to weight the coffee because it varies dramatically in how coarsely or finely its ground. The only way to know the coffee to water ratio is correct (remember, expert work with specific ratios but fanatics can explore until you have a ratio to your linking) and it is to weigh the coffee and water you are using. It has sealed buttons and displays for protection against accidental spills and easy two-button operation. 
Hario V60 Coffee Drip Scale/Timer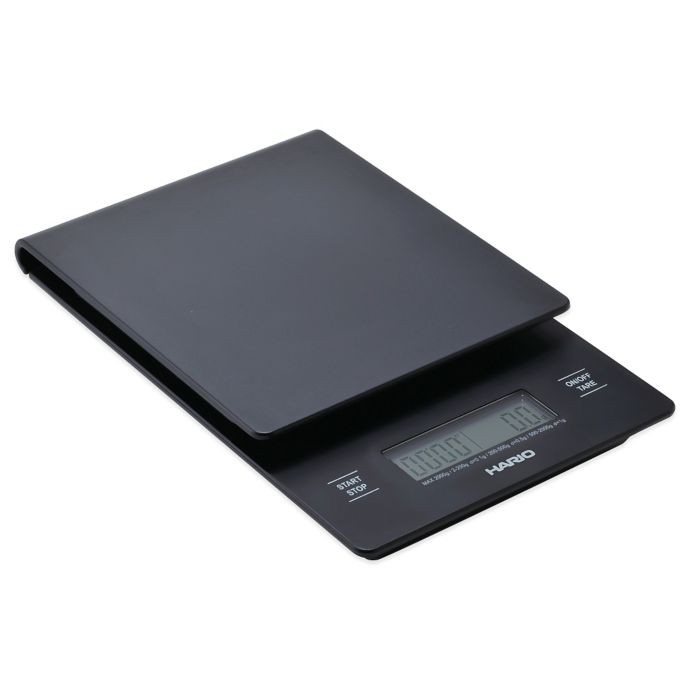 It brings you compact sizing alongside quality engineering and affordability. It ensures accurate measurements such as your extraction time. This scale can also be used for any coffee or kitchen. Its timer helps to repeat brew recipes accurately.  It is easy to use, it includes an auto power off (You do not have to worry if you forget to turn off the scale) and it has high ranking for customers. 
Best Grinder for Pour-over Coffee
This is the way to level up the flavor in your cup of coffee. We like to enjoy a fresh flavor to the maximum, for that, grinding coffee beans before preparing it is the best option. You need a coffee grinder, and in the market there are different models for your needs. If you want to grind coffee quickly and in large batches . If you are looking for an affordable hand-powered coffee grinder, the Hario coffee grinder does the trick. 
Brewing tips:
You can have different tools, but the idea is to experiment until we can get the perfect recipe for us. We have to take our time to perfect all the details that we want. 
The gear: You do not need a lot of accessories. You need only a burr grinder, a slow pouring-kettle, and a gram scale. Even several setups improve and it can attract attention to be able to acquire something newer and more moderm. In another hand, your needs may be different and you will want to acquire what helps you to improve your pour-over coffee. 

The grind: Grind consistency and uniformity is the single most important variable in brewing consistently quality coffee. This point is one of the most problematic but when you have found the proper coffee grind the rest of the process will be easy for you. You need to try with different grinders or try to see what kind of grinder in the market is the best for you. For example, if your coffee is coming out consistently thin, weak, or sour, try a finer grind setting; if your coffee is coming out consistently bitter, harsh, or brothy, try a coarser grind setting. 

The ratio: Your coffee brew ratio will be the basis of your recipe. Many experts or baristas work with specific measures to prepare coffee and get certain flavors . It is not recommended to use specific portions that use baristas because they have knowledge of the most professional preparation methods and portions. Coffee lovers and non-experts have to experiment and know the portions that they like most. If we use measures that we do not know perfectly, we can drastically change all our coffee. Ideally, find the portion you like until you are sure of other variables to work. 

The water: Do not forget the quality water for making coffee. It will help your coffee shine to its fullest potential. Filtering water at home is much easier with the option there is currently in the market. 

The temperature: The SCA says that the ideal temperature range for brewing coffee is 195°F-205°F (90.5°C-96°C) when water contacts ground coffee. The important thing here is to achieve stability no matter which brew temperature you choose. You need to know how to preheat your brewer and make sure it does not lose heat quickly. 
There is nothing better than having everything you want for your kitchen. In this case, have the best setup for making coffee. It is difficult to find the right products when we want to start making pour over coffee at home. We have so much information everywhere, and we do not know what the best options there are for us. Tell us if you think there are other setups for the best pour-over coffee setup.