Best Coffee Makers
posted Apr 02 2021 | All posts
Best Coffee Makers 
Why a coffee maker?
Coffee is the first drink to start the day in many homes around the world, the drink that fills us of energy. Most of us spend money on coffee shops and getting the perfect taste coffee for our palate. There is not an answer about which is the best coffee maker. It depends on tastes and needs for each consumer if they want an automatic or manual coffee maker. For this very reason, coffee makers have been renovated to satisfy the needs of the market and achieve the same you can get buying outside. We will give some options stand out among various brands and references of coffee shops that can satisfy what you want. 
Best overall coffee maker - Bonavita Connoisseur 8 cup- One Touch Coffee Maker
It is one of the best maker brands. This coffee maker has the ability to brew at the proper water temperature and maintains that temp throughout the brewing process, it is a good point because very few machines make it (198 - 202 degree range). It evenly distributes the water over the coffee grounds while brewing. It showers all the coffee evenly so it all brews at the same time. This model is not the most complete as other options but it is more approachable price point, ease of use, and reliability. 
Top rated + Travel Friendly - Technivorm 79112 KBT Coffee Brewer 
There is a copper boiling element that maintains the water at an optimal heat level (196 - 205 degrees Fahrenheit). It is easy to operate and it has an automatic drip-stop. It is fast and efficient enough at keeping the liquid hot  for hours without causing the burnt taste. The parts are easy to clean. 
Best high-end coffee maker - Technivorm Moccamaster Brewer, 40-ounce 
The second most recommended coffee maker. It is pricey, but those who have used it say that it is worth investing in this model. It also has good ranking on its temperature-control ability and even brewing. It has a really good design, and it is recommended for making a good consistent coffee. 
Breville BDC450 Precision Brewer Coffee Maker With Thermal Carafe 
It has a discharge valve to make individual cups of coffee with the perfect temperature. Its aspect is modern and clean, it is very easy to use, and its display screen is on the smaller side so could be a bad point for those with eyesight. You can control everything with this coffee maker, its temperature and volume of coffee. Release technology makes sure flavors are perfectly extracted from the coffee beans. This model is expensive so not anyone would buy it because it comes with a lot of features and some people want to find out something more simple for their houses. 
Most Diverse - Ninja Hot and Cold Brewed System 
Made with all plastic, it looks very stylish on the countertop and it is compact to keep in kitchen cabinets. It is actually versatile. It is capable of making anything like drip brewed coffee, lattes, hot teas and chilled iced drinks. Also, it serves in multiple brewing sizes. This coffee maker is capable of extracting the coffee at an ideal temperature level and it is fully automated, easy to use and it has an illuminated symbols' control panel. It has two filter baskets, one for coffees and other for teas. 
Best Coffee maker with built-in grinder - Capresso 10-cup Digital Coffee maker with Conical Burr Grinder and Thermal Carafe 
 It has everything you need in one machine. This model is a coffee maker with a built-in grinder. It has a digital display, and it is easy to use. The capresso drip machine yields the cleanest-tasting cup. 
Best Coffee Maker for a Quick Brew Time - BUNN Velocity Brew 10-cups Home Brewer 
This model of coffee maker is very fast, consistent, and user-friendly. It also is a great-home version. It has a stainless steel tank that keeps water warm so you can enjoy hot and fresh coffee any time of the day. It has a multi-stream head and flat filter mean flavor will always be evenly extracted from your grounds. It does not have something fancy it gives you coffee whenever you want. 
Great Value For Money - Bonavita BV1900TS 8-cup One-Touch Coffee Maker 
It has modern features like a shower-head water dispenser ensures an even steep for your grounds, it is an intentionally simple drip machine. It keeping water temperature between 196 and 205F (Gold Cup Standard defined by the SCA). This model is quiet and easy to use and it is designed for small spaces. 
Stainless Steel/Black - Brew Express BEC-110BS 10-cup Countertop Coffee System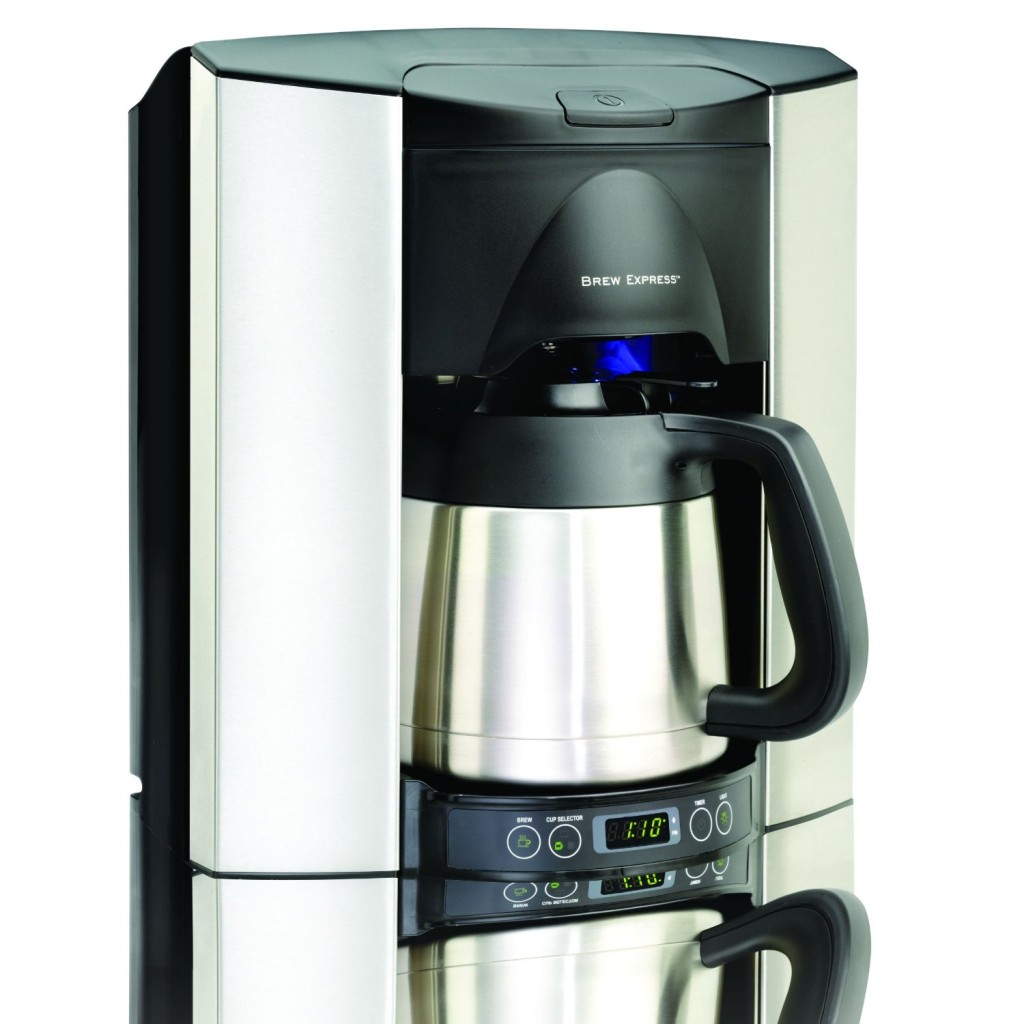 This model is a great option for an office or a big coffee-loving family. This is a commercial quality coffee machine, it has a water line to provide a constant flow of hot and provide fresh coffee. The initial expense may be high, but it should last years.  Carafe keeps coffee hot for hours, high-quality and durable and it can program a singles cup or a full pot. 
Best Simple Coffee Maker - Mr. Coffee 12-Cup Coffee Maker 
This is a simple but complete coffee maker. It is a great choice for any amateur coffee roaster who wants to flatter their grounds. It has a high quality of technology for distributing the water evenly. Light on and off and filter baskets for quick and easy cleaning.
Types of Coffee Makers
      1.Drip Coffee Maker/ Coffee Brewer 
The coffee brewer, it is easily the most common type of coffee maker you will find in homes across the world. These coffee makers are very easy to use. You only load up a coffee filter with your choice of ground coffee, you add the water and turn on the coffee maker. These kinds of coffee makers are not common in homes, they are also the kinds that you see in offices and some restaurants. This type of coffee maker is affordable to buy and it is affordable to use. 
It is affordable to buy and use on a daily basis, very conveniente, as it makes a whole pot of coffee at once, lots of options for different models, shapes, sizes and brands. On the other hand you can consider that it only makes basic coffee (nothing fancy), makes a lot at once and it could be a problem because you can waste coffee at the end.
         2.Singles-Serve Coffee Maker/ One Cup Coffee Maker
One of the newest types of coffee makers in the market, they are for making the coffee single-serving pods or K-cups. There are different pods in all sorts of different flavors, they are personalized, you only add hot water into them and brew. The single-serving models are easier to use than automatic drip coffee makers. No need to worry about coffee filters. Its costs depend on features and brands, the pods that this model uses are more expensive than others.
Nevertheless, there are some new single-served models with extra complements and you can skip the individual pods and load your own coffee grounds. This type of coffee maker is usually very affordable, extremely easy to use and clean, coffee pods come in many flavors. To keep in mind, buying individual coffee pods will get expensive over time, it is not great for the environment.
         3.French Press 
One of the most traditional methods of making coffee. You pour in the amount of coffee grounds you want, add boiling water, and press the lid of the device down to force the grounds to the bottom. French press is one of the cheapest models of coffee makers, you can avoid buying coffee filters and it does not use electricity. This type of coffee maker is the most affordable option, extremely simple to use, no filters required. On the other hand, you may end up with more grounds floating around in your coffee.
         4. Espresso Makers 
If you really love coffee, espresso is probably your favored type. Espresso makers produce smaller quantities that are stronger and more flavorful. These kinds of coffee makers make a variety of drinks like cappuccinos, macchiatos and lattes. There are a wide variety of features, brands and types of espresso machines available to choose from. It is extremely easy to use, espresso machines create the highest quality of coffee. Nevertheless, This model is the most expensive coffee maker on the market and makes small quantities at a time. 
Factors to consider when buying a coffee maker 
Cost: No matter what you decide, you need to be sure about what details you want to have in your coffee maker because the price can change. Be sure to invest in a coffee maker that will ensure durability and save your money in the future. The idea is not to buy the first option you see, you need to search for the best options for you because you will use your coffee maker everyday. 

Convenience: This point depends on your time or needs because you do not want to have a coffee maker that is complicated to use or very simple when you want to have different settings to get different coffee options. You need to know your habits more than anyone. You need to think if you put in a little time to make coffee or not, so you need to see if you want an automatic, simple or manual coffee maker. 

Programmable Settings: These can come in handy for a wide variety of situations. Coffee makers have changed and they give us more settings to make coffee like if you want to schedule what time to make coffee without pressing any button, you can do it with programmable settings. 

Built-in Grinder: Some people do not have a problem with having a coffee maker and coffee grinder but some others prefer to have everything in one. There are some models which have one that is built into your coffee maker and they help you save counter space. 

Water Filter: Some high-end makers will come with a water filter to guarantee the flavor comes out just right. This is one of the most important details that people consider when they want to buy a coffee maker. 
It does not matter what your tastes are, there are many coffee maker options and some may be adapted to your needs. Remember, coffee makers do far more than just coffee. Some of them grind coffee, prepare iced coffee, froth milk for lattes, etc… There are new features at different prices that you can purchase and enjoy to have the best coffee. We have given you  some options about "the best coffee makers" that we consider. You can share your experience with any coffee maker or tell us if we forget something important before buying one.